My CPO Tesla Model S
I have been watching and drooling over Tesla since they first started selling cars. I believe that electric cars are the obvious path forward. As battery technology improves and becomes cheaper there will be no reason to have a fossil fuel car other than for entertainment.
Tesla has been leading the move forward with a top down approach to electric vehicles. Selling luxury vehicles now with a long term plan to start selling reasonably priced vehicles later. We don't know for sure if this plan will work long term. But, I think it is already working. Tesla looks to be heading toward a profitable position as their latest manufacturing line is ramping up.
One area where Tesla has become the clear leader is with the Super Charger network. There are Tesla charing stations located along most major road systems all over the world. This gives their cars an easy and quick way to recharge that few other systems can compete with.
I originally signed up a Model 3 reservation, but decided to get a similarly priced Model S instead. Mostly because I'm impatient. But, also because I was very unsure of the minimal interface of the Model 3. I've been re-thinking that lately. But for now I'm sticking with my Model S.
Our Car
I only had a few must have options on my list:
Premium Audio System
Auto Pilot Hardware - would have loved version 2, but for the price I was ok with version 1.
Air Suspension
19" wheels. The larger 21's aren't worth the hassle and cost.
I wanted Silver, Gray Metallic, or Blue for the color. But, I ended up with Multi coat Red.
Our car also has: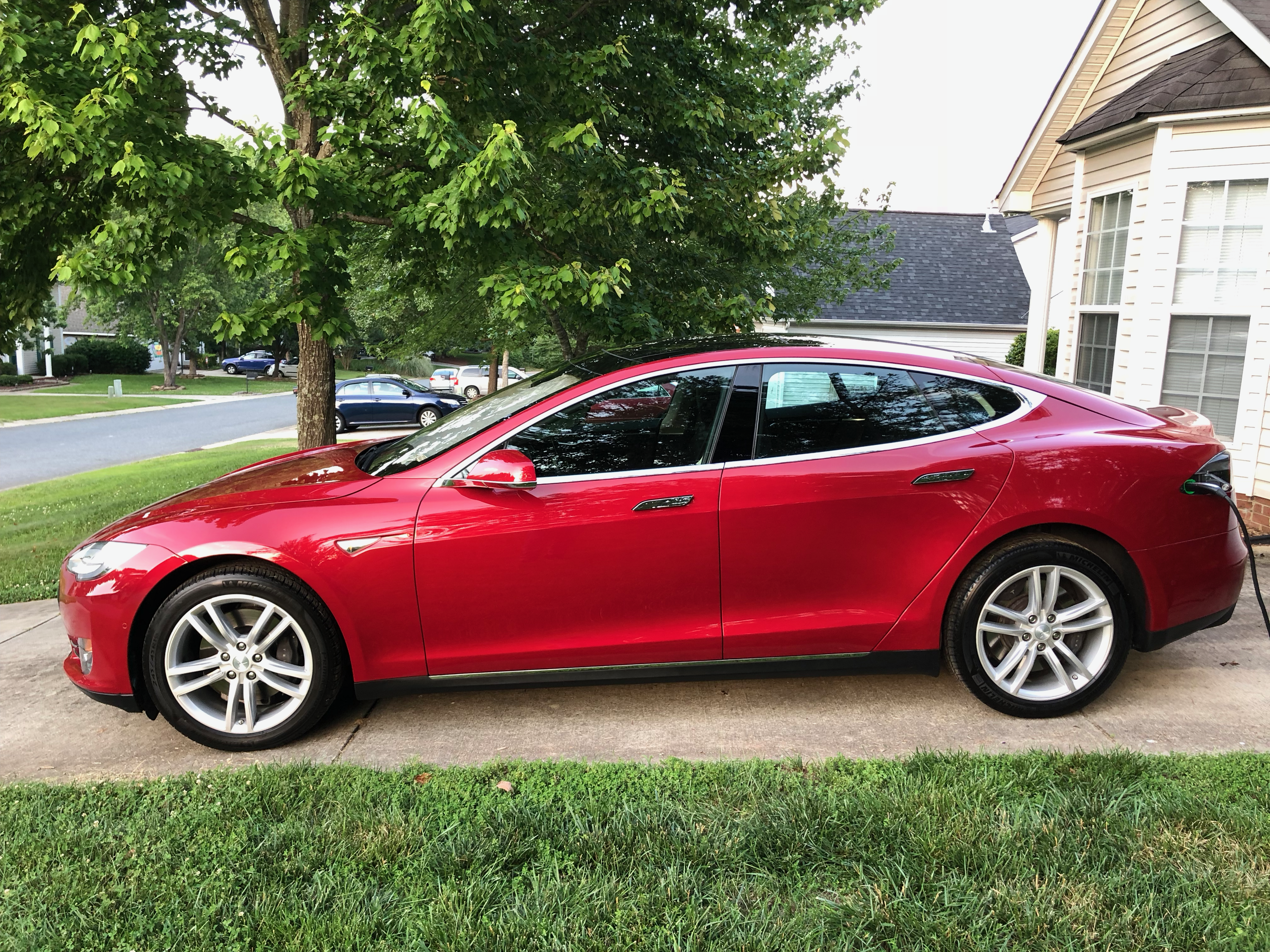 Purchase Experience
You order online and their web site works pretty well. I did have an issue with the car that I originally chose selling out from under me. I called a sales rep and he helped me find a non yet listed car in California that had everything I wanted.
I did have to pay, as part of the purchase price, to have the car shipped to North Carolina. It took about a week to ship.
All of the purchase forms and required documents were all handled via the website. Even the trade in info was entered via the web. For the most part this was a good experience. However, there were some issues with communication from Tesla. They sent us the final loan info right before the delivery. We had to scramble to get things notarized and completed. Due to out dated laws in NC Tesla only has a showroom here. They can't legally sale cars here directly. So, we can't sign and handle the loan info at the delivery. It's silly and needs to change. It made things stressful.
Delivery
Our delivery was delayed a day due to a crack in the wind shield. This would normally have been fine, but Tesla did not call me to let me know this. I only learned about this when I was calling for another issue. Fortunately it was only a single day delay. They replaced the windshield at no cost.
Tesla does pretty well at training people during the delivery. They go over everything and let you ask any questions you might have. I pretty much knew everything that was covered already. You can spend some time on Youtube and get in depth information on every aspect of the car.
In less than an hour we were driving home.
We did have one issue with the delivery that was quite annoying. When we handed over the title for our old Prius, we had not gotten it notarized. I missed this completely. The delivery person also missed it. So they had to send it back to us to get notarized.
Charging
Initially we were charging the car at home with a 110 standard plug. This gave us about 4 miles of range per hour. This is not enough to make up for a normal day of driving for me. Luckily it only took a week to get a new 240v dryer style plug installed in the garage. With this I can charge up my normal daily use in a few hours. I regularly get around 30 miles of range per hour with this connection.
We have used the Super Charger network a few times. It's been great, with some planning you can go pretty much anywhere you need with only a little more time spent charging than you would need to spend at a gas station. Your going to want to stop for food and bathroom breaks anyway. Getting used to the difference is the only real problem.
Driving
Driving this car is like a dream. Our car is a Model S 85. We do not have the performance or dual motor options. It's not nearly as fast as the newer tricked out cars. But, it is crazy fast and easy to drive. When you need power its there. No hesitation, no struggle.
All of the included technology makes this a great driving experience.
Conclusion
It's only been a few weeks, but so far I have to say I'm ridiculously happy with this car. It's like having two car payments, and the insurance is a bit more. I've never had more fun driving a car.
Who knows what will happen in a few years I may trade it in on a new or used Model 3. We need more people to buy electric cars and to drive the price down. Don't fight the future, embrace it, and have a good time.
Prev Post
Next Post